Known around the world as the Capital city of Ireland (and one of the best places to spend those infamous annual St Patrick's Day celebrations), Dublin is a great place to experience at any age – from the younger years through to adulthood and beyond. 
But today, we're focussing on students – and the array of highs and experiences that Dublin offers to students who are attending University, visiting, or simply passing through. 
Things you might not know about Dublin
Five million people visit Dublin city centre every year – making it one of Ireland's most important tourist spots as well as the home of four different universities and endless pubs, bars, and attractions. 
For students, the attraction of Dublin lies in its culture, the collection of top-ranked universities, and of course, the huge choice you get when deciding how to spend your time – and where to go for an evening cocktail or a beer. And this introduces the first of our fun facts about Dublin.
Did you know that Dublin is home to a colossal 666 pubs, one of which is the oldest pub in Ireland (called 'The Brazen Head', which opened in 1168)? For students, that's one hell of a pub crawl if you want to hit up as many local pubs as possible! 
Another interesting fact about Dublin, and another one which resonates particularly with the city's student population, is that it is home to Europe's largest park – the Phoenix Park. Covering 707 hectares of land, which roughly translates to 990 football pitches. For students and tourists alike, this mass of outdoor space offers endless attractions including Dublin Zoo and the President of Ireland's home, alongside a ton of open parks for your own summer picnics, games, and fitness activities. 
Back to the drinking facts now (there's no escaping it in Dublin), and the city's famous beverage – the pint of Guinness. There are around 10 million pints of Guinness produced every single day in Dublin… and no wonder, if they've got 666 pubs to stock! Considered one of the most successful alcohol brands in the world, the creation of Guinness originated in a Dublin-based brewery and is now brewed in over 50 countries to serve the global fanbase. 
But it's not all drinking – Dublin is also home to some of the literary greats from history, as well as the widest street in Europe (measuring 49m wide), and the famous O'Connell Bridge which is known for being as wide as it is long. Safe to say, Dublin locals obviously like to be surrounded by a lot of space!
Universities
Whether you're considering attending University in Dublin or planning a visit with friends, Dublin is home to four of the most popular University's in the UK, with three of them even making it onto the list of the top 500 Universities in the world (there are 17036 Universities in the world, so making it into the top 500 is a pretty big deal!)
Alongside the four main Dublin-based sites, there is a fifth University located just outside the city in Maynooth – alhough the 25km distance between campus and the city centre excludes this University from our guide on the grounds of expensive taxi fares and far too long on a bus!
The four main Universities in Dublin are:
Trinity College, the oldest of the four situated right in the heart of the city. Trinity College is known as a historical piece of architecture and has gifted the world with literary greats like Oscar Wilde and Samuel Beckett as well as more modern and recent celebrities. The University library is the largest and oldest library in Ireland and holds the Book of Kells which is one of Ireland's national treasures (well worth a visit). As well as being a centre point in the city, Trinity College was ranked 101

st

in that top 500 list we mentioned earlier, and even ranks in the top 50 for subjects that include Nursing, Pharmacy and Pharmacology, English Language and Literature (hardly surprising given the alumni), Classics and Ancient History. 

University College Dublin

Dublin City University

Technological University Dublin, covering a series of locations and campuses around the city with a focus on technology.
These four separate Universities mean that for students, Dublin presents diversity in both learning style and environment, with students able to come together to enjoy the city as one despite the very different styles adopted by each of the four main academic sites. 
Eating Out
When lectures are over and your brain has taken in more than enough information for the day, there's nothing better than meeting up with friends for a meal out or grabbing a takeaway and taking it home. For students, eating out is an opportunity to spend time away from campus and away from their desks – with Dublin offering endless options from the world-famous pub scene to the high-end Michelin Star restaurants (of which there are five in Dublin – though these might be best saved for results day and graduation!)
In typical Irish style, Dublin is well regarded by tourists and students alike as a warm and welcoming place to live and visit, thanks to the hearty meals and the friendly locals who embrace new people as friends. For students, the Temple Bar District is one of the most famous locations to head for an evening or a night out, with pubs offering live music, endless restaurants and cuisines to try and taste, and of course that well-loved Guinness pretty much everywhere you go. And it doesn't end there. 
Some of the best foodie deals in and around Dublin are uniquely designed for students in the city, with popular eateries and restaurants alike offering midweek meal deals, special menus, and even half-price cocktails and beers at specific times during the day. Some of the best ones to check out include:
Captain Americas

Boojum

Wagamama

KC Peaches

Checkpoint Arcade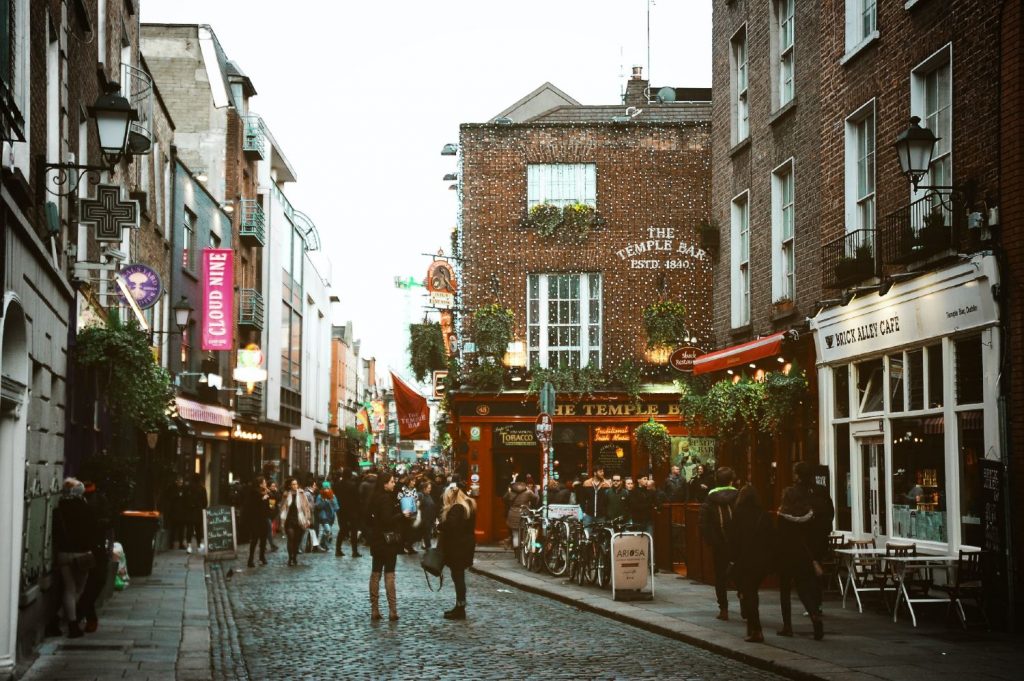 Getting Around
Dublin is a great city to enjoy and explore on foot, but for those looking to go further afield or find different ways of travelling across the city, there is a selection of different public transport options available. 
Irish Rail is the main train line in and around Ireland, offering great deals and discounts for students who can travel around Ireland at cut-price rates. 
Dublin also benefits from a bus line that runs around and just outside of Dublin – again offering discounts to students who can show valid student ID or a student card. 
And if you'd prefer to get fit and practice some exercise as part of your commute to campus or across to meet friends, Dublin is also renowned for operating one of Europe's largest and most successful bike-sharing schemes – with over 120km of bike lanes across the city and endless places to find and hire bikes from to get around. 
Arts and Culture
From independent bookstores to the largest park in Europe, through to the architectural wonder that is the Trinity College main campus site, Dublin is packed full of sights to see and things to look at – and that's just on the surface.
Famed for introducing writers like Samuel Beckett, James Joyce and Oscar Wilde to the world, Dublin is a hive of culture – with some of the best and most iconic experiences including:
The National Gallery, right in the heart of the centre of Dublin. Home to Irish and European art and providing insight into various periods of history through the eyes of some of the country's most famous painters. 

Giant's Causeway, an incredible experience made up of over 40,000 columns rising from the sea.  

Dublin Castle, not just a site of historical prominence but also the backdrop to many television shows and movies, and an attractive landmark around which students can enjoy a day away from campus. 

The streets themselves, packed with Georgian townhouses, picturesque Victorian parks, and Edwardian aesthetics and decorative aspects to the city. 

Dublin's 'Dead Zoo', an interesting day out which presents and celebrates natural history in an experiential way with whale skeletons and exotic taxidermy to name but a few examples of what you can find inside the doors. 

Live music, which can be enjoyed in many of the bars and pubs across the city centre. 
And let's not forget that Dublin has consistently voted one of the friendliest places in the world thanks to its people, with every possible experience being ranked enjoyable thanks to the sheer friendliness of the locals. 
Entertainment
Whatever your favoured form of entertainment, you can be sure that Dublin will have it – from live bands to cinemas, nightlife, sporting events, natural experiences and so much more. Dublin also extends its hand of friendship to performers, with a seemingly endless array of stages and venues which invite comedy, bands, individual singers and more to the stage to perform. 
Entertainment may be rife all year round, but Dublin also holds a few specific dates at the core of its entertainment district – with the fringe festival, St Patrick's Day, the Great Ireland Run, and Dublin Pride some of the most popular. 

Shopping
As is the case with so many student and tourist cities around the UK and beyond, Dublin is a haven of popular retail stores and high street chains – many of which offer the standard student discount (and sometimes more!)
Dublin is home to plenty of different shopping centres, including Jervis and Stephen's Green, all of which blend together named brands alongside independent producers and small businesses to give students a bit of everything. And with so many great deals available using the student discount card, fancy dress nights and Fresher's Week outfits have never been easier to find!
Cost of Living
Find us a student who doesn't care about the cost of living – go on, we'll wait!
Cost of living is, like it or not, a major factor in deciding where to live and where to visit, with Dublin offering a selection of different options based on budget, proximity to the city centre, and the surrounding area. While things like student discounts and the student card can offer a multitude of savings across entertainment and hospitality venues, knowing where to head and where to live if you're looking for a bargain is important when it comes to studying and living in the city. 
Most new students will be offered student accommodation for a fixed fee in their first year and will then have that year to decide on future accommodation for the remainder of their studies. Your cost of living should ideally factor in the following:
Rent

Utilities (/any bills not included as part of your rent)

Food

Travel 

Books and Course Materials

Clothes, Medical Items, Toiletries

Social Life / Going Out

Any additional student charges attributing to your university or course
At Liv Student Dublin we offer great value for money student apartments with all bills included – find out more!
Student Life in Dublin
Dublin is an incredible place to study, packed full of cultural experiences, things to see, places to go, and Guinness to drink. As a student, focussing on living within your means allows you to experience everything you want to without pushing yourself into debt, with various discounts and student deals well worth exploring before you undertake any new activities or head to any attractions. After all, you never know where might just accept and offer a student discount!