It's more than just a place to live.
Here at LIV Student, we recognise that while university accommodation and halls of residency are a necessary part of the student experience, what these set-ups don't do is support the broader experience, as students navigate not just a new area, but a whole new lifestyle. Built by former students for current and future students, our growing collection of sites and accommodation options are all designed to unite student accommodation with the need for more – encompassing activities, local experiences, unmatched security, opportunities, life skills workshops, and so much more. Our vision is simple. To deliver spirited, authentic, and exceptional accommodation and services, so that every student is free to live their perfect student lifestyle from day one.
LIV Student was born in 2018 with the opening of our first accommodation site in Dublin. Believing that we had stumbled across an unexplored but much-needed formula for university students, particularly those facing their first year in a new town or city, every aspect of our first site was built on the need for more than just a bed and a place to call home.
Since then, and with demand far outweighing what we were initially able to provide, our brand and organisation has expanded into new territories and destinations – though one thing always remains the same.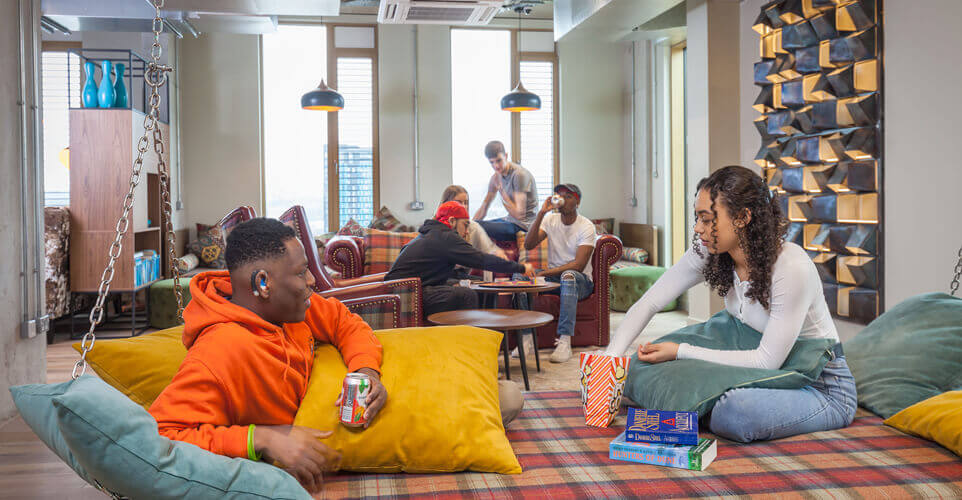 Our commitment to empowering students to live university life THEIR WAY.
Want to become more independent while working hard, having fun, and helping others?


We've got workshops and courses perfect for you. 



Want to live it up while you're away from home and identify new experiences that will help shape you and your future?


We partner with all sorts of local venues and bars to get you discounts and to help you experience your new hometown – leaving it better than you found it.



Want to make new friends and discover new hobbies you didn't know you had in you?


Our sites boast exceptional communal spaces, with an endless program of partnerships with some of the best activities in the surrounding area.
Since opening our first site in 2018, we have continued to grow and currently operate nine different sites across the UK, Ireland, Spain, and Portugal.
There are no shortcuts to any place worth going.
Just like every student arriving at university, we have our own future plans and goals (that's what makes us so relatable for students old and new!)
We think that what we do is the best – and so we want to make our accommodation experience as accessible to as many students as we can. The best way to do that? By expanding into new destinations across Ireland, Spain, Portugal, and the UK.
Keep your eyes peeled for updates on where we're going next.
LIV Student is part of the Valeo Groupe and subsidiary brand Valeo Management Europe (VME) The Valeo Groupe operates under three main objectives:
To improve the higher education learning experience by providing exceptional student accommodation
To be recognised as a true innovator in student accommodation around the world
To become a world-leading experience-led student housing company
Under these three main objectives, and with our commitment to helping students
Work Hard, Have Fun, and Help Others,
LIV Student combines the need for accommodation with the desire for experience and opportunity – letting students take charge of and frame their own university experience from day one.
A look at our community so far
Sheffield – Opened in 2019
Miranda – Porto – Opening 2021
The Street – Porto – Projected Opening 2022
Barcelona – Projected Opening 2022
Seville – Projected Opening 2022