Halloween is almost here! Maybe you're stressed about lack of an original costume to wear out? With all the course work and busy schedules in uni—who has time to prep and plan for a costume? Don't worry, we've got you covered with some of our favourite quick and easy DIY costumes for Halloween. Time to get crafty!
The Addams Family
The Addams Family is very on-trend recently, especially for those wanting to embrace their more dark and morbid side. You can easily replicate the style of matriarch Morticia Adams with a long black dress, black wig (or coloured hairspray), and heavy eyeliner. For Gomez, look for a pinstripe suit and fake moustache. Alternatively, you can channel one of our fave OG emo-lovers, Wednesday. 
Try finding clothes at a thrift or second-hand shoppe, to save money! 
Use Sophie Turner and Joe Jonas as your inspo. ??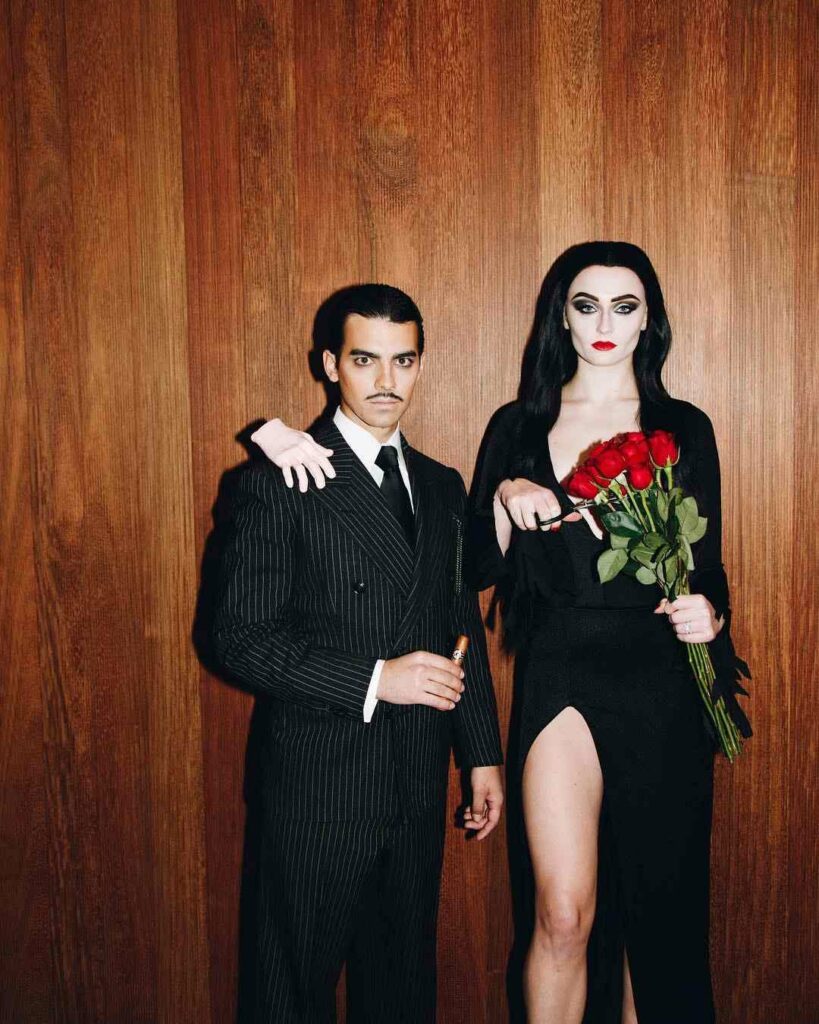 Image Source: Sophie Turner Instagram 
Smartie Pants
This might actually be the easiest DIY costume out there. Buy some Smarties candies, you can take the actual candies out and use just the container. You can also order the American version on Amazon, which might work a little better, either will do! Then glue, tape, or safety pin the candies all over your pants—et voilà, a "punny" costume! Complete the look with suspenders and fake glasses if you want to go all out.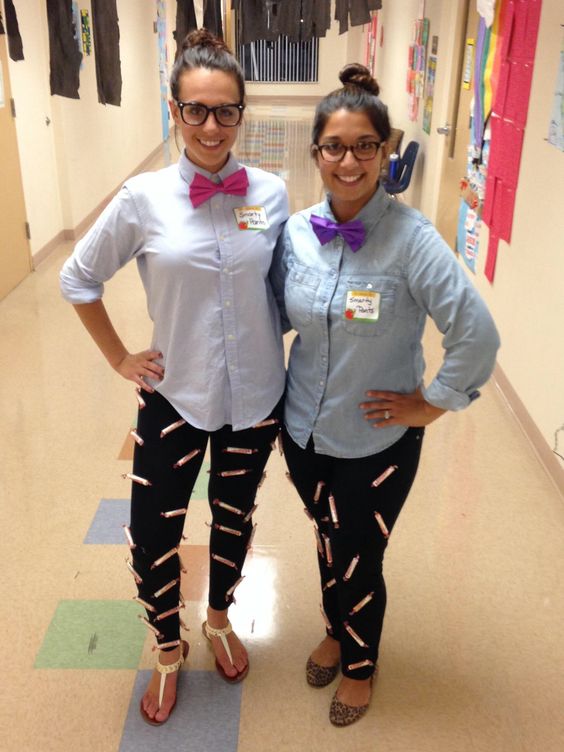 Image source: Pinterest 
Pantone Colour Combo
This costume is a shout-out to all of the graphic and interior design enthusiasts. For creative couples—romantic or friends—who love the monochromatic aesthetic, dress up as your fav Pantone colour. Find a matching outfit online (hint: you can get something cheap, you'll only wear it once!) Print a Pantone tag, slap it on, and you're done. 
You could also go the posterboard route, but that's less flattering, also terribly hard to wear on the tube!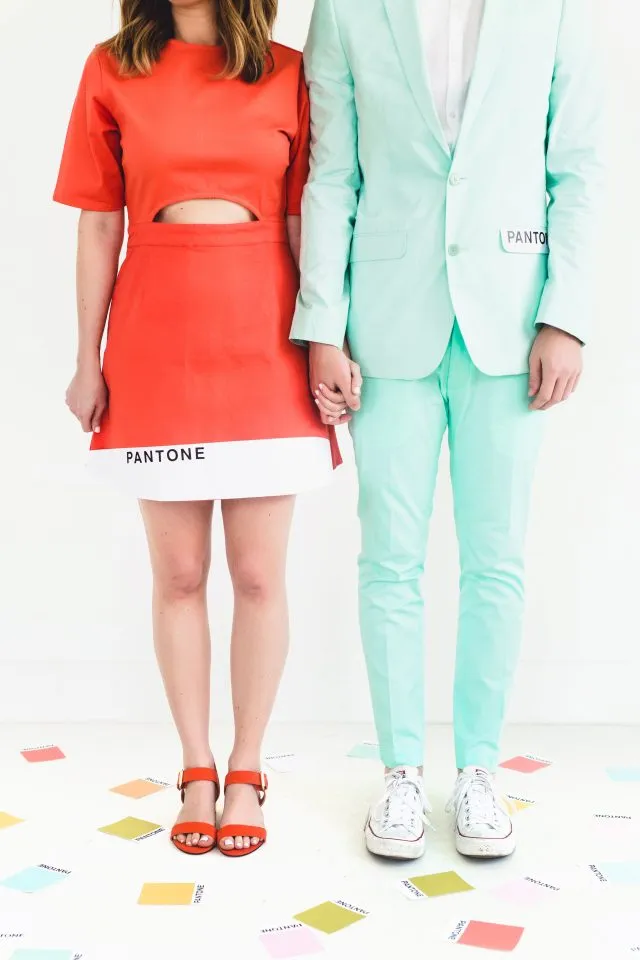 Image Source: SugarandCloth.com
DIY Houseplant "Boxtume"
If you've got a box lying around, (from all of your Amazon deliveries—don't worry we're not judging!), this is a pretty easy and original costume to pull together. The DIY houseplant "boxtume" is better for the crafty sort, as it has quite a few steps involved. But you might just win "most original" in a Halloween contest! Get the full instructions here.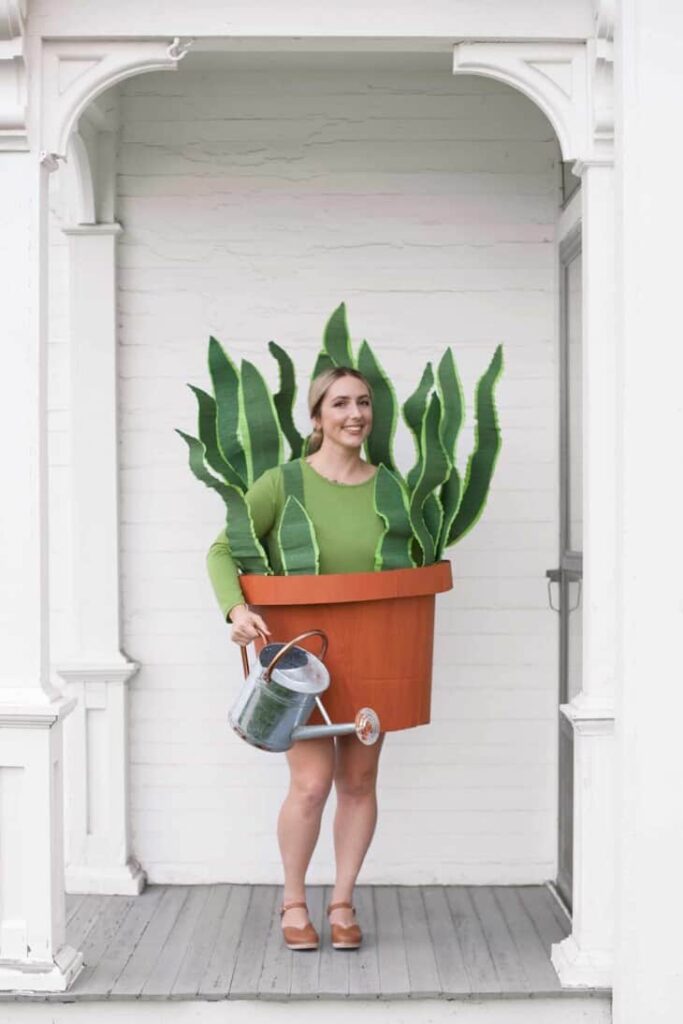 Image source: A Beautiful Mess
Light-Up Galaxy Skirt
If you're looking for a simple costume that can also double as an actual wardrobe staple, this might be the perfect choice for you. A lighted galaxy skirt is easy to throw together and can be turned off and used for a retro-inspired outfit after Halloween. All you need for this costume is a black tulle skirt, some acrylic paint, a set of battery operated led lights and plastic trash bags. You can get all of the painting and prep done for this within an hour.
For an easier version: skip the painting and look for a tulle, brightly coloured skirt or dress at a thrift shop, (think 80s neon). Then add lights, and glue on galaxy-inspired baubles.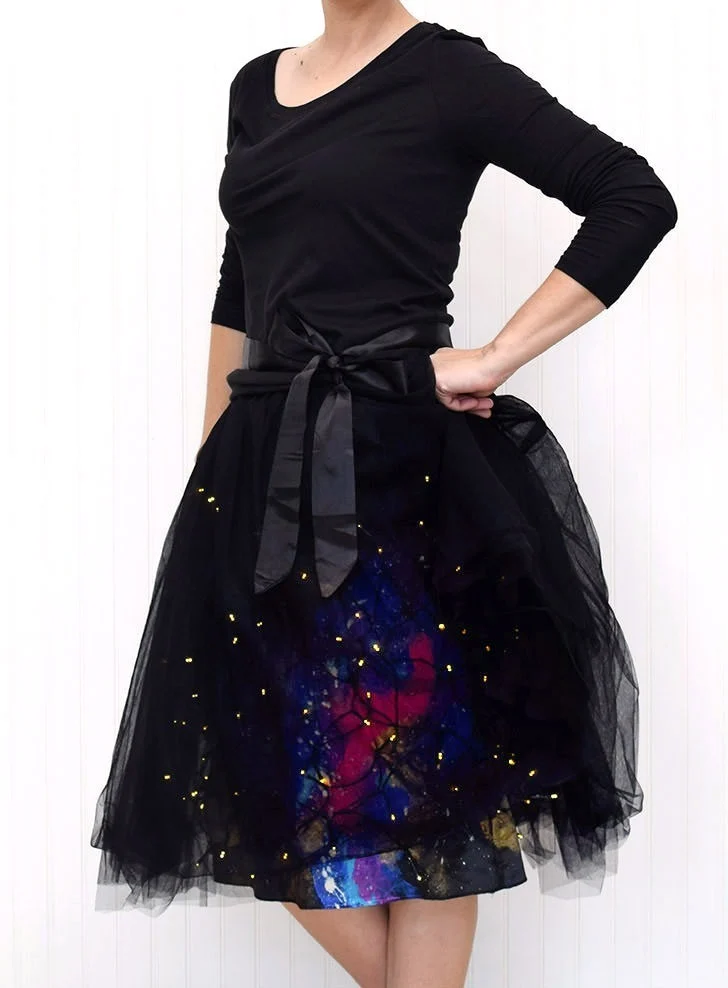 Image source: Dream A Little Bigger
Bowie as Ziggy Stardust 
Looking for a non-binary costume? David Bowie was one of the first superstars to really play with gender roles. Pay homage to this absolute legend by going as Bowie in his Ziggy Stardust days. Take a look through some of his most fabulous fashion moments to pick your #Lewk. You can also use these step-by-step instructions to get down the iconic face paint look. 
DIY a Unique Halloween Costume
Whether you need to throw something together last minute or want a DIY project for a break from studying, creating a costume is budget-friendly and fun. You'll also end up with an original look to wear out to all the Halloween parties.
If you want tips on staying safe over Halloween, check out this guide.