It's a common misunderstanding that uni students must live off of processed food and takeaway. But nothing could be further from the truth! And we know everyone has "eat better" on their minds after holiday feasts and parties. We've gathered a list of healthy meals to cook at uni in the new year. These recipes are easy, affordable, nutritious, and nourishing, not to mention, you can cook them in any sized kitchen! (We see you studios with efficiency kitchens!) 
Add these to your recipe arsenal, and 2020 will be a deliciously satisfying year. 
1. Fajitas
Craving the spicy, savoury flavours of your favourite Mexican spot? Hit all the same delicious notes by serving up some fajitas. These satisfying faves are incredibly straightforward and versatile. Simply grill or sautée veggies and a lean protein with Mexican spices, and place them in a warm tortilla. You can dress it up by adding your favourite toppings: guac, salsa, cheese, or sour cream. Going low-carb? Try whole wheat or veggie-based tortillas! You can also easily make this meatless by using tofu, vegan meat alternatives, or mushrooms. 
Cheap, easy, fun, and healthy? Sign us up!
2. Buddha Bowls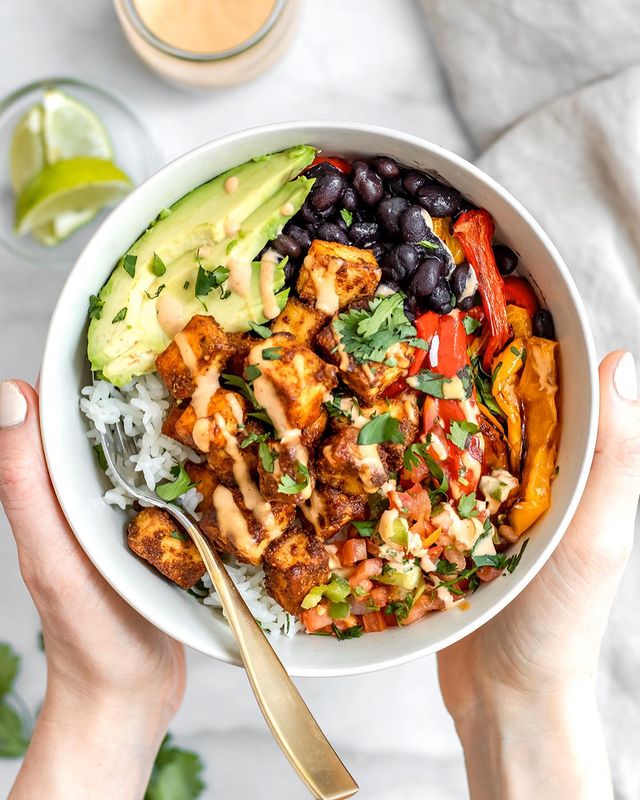 Image source: Eat With Clarity 
Not only are these beautiful social media darlings healthy, but they're incredibly delicious as well! While they may look complex to make, they're actually very simple to put together. Select your favourite grain (quinoa, rice), veggies, toppings (hummus, guac, salsa), and veggie protein (chickpeas, beans, tofu). Then, place each in a small pile in a shallow bowl. To amp up the flavour, you can also add sauces, dressings, and garnishes like nuts, seeds, cheese, or fresh herbs. This is a fantastic method to use what you have on hand or vary up your meals. The combos are endless—and you'll never tire of trying them all.
3. Egg Scrambles
Plain scrambled eggs are a uni staple but can get boring fast. To spice it up, you can easily dress them up in a way that makes them mouthwatering, exciting, and healthy. Seriously, scrambled eggs are the jack-of-all-trade meal.
Scambles play well with a wide variety of ingredients; think of them as you would rice in a stir fry. Almost any veggie you can sautee will work: onions, peppers, tomatoes, spinach, potatoes, broccoli, etc. You can also add in other proteins, like ham, sausage, cheese, tofu, or black beans. Just make sure it's cooked first! 
Want to bulk it up even more? Serve your eggs over rice, quinoa, or on a tortilla (maybe ones you have leftover from fajita night). And don't stop at breakfast; robust scrambles are an excellent choice any time of the day. If you need more inspo, try one of these 25 recipes!  
4. Soup
This classic meal can be made to suit any nutritional plan, preference, or craving. From the classics to fun new takes (like a Korean chicken hot pot!), there's something for everyone. 
Soup is one of the easiest healthy meals to cook at uni. Sure you can follow a recipe, but you can also wing it. Try this simple version: grab bags of frozen mixed veggies, cans of beans or chickpeas, and some veggie broth. Dump it all in a big pot, add your fave spices or herbs, let it simmer, and bam! You've got a hearty meal that requires basically no prep! And when your course work is overwhelming, soup is the answer. It's easy to portion out into single-serving containers and pop in your freezer. This makes it easy to collapse after class with a warm, comforting meal. After all, the UK's winter weather practically begs for cosy suppers! 
5. Overnight Oats
There are few things more hectic, rushed, and stressful than mornings in uni. In your mad rush to make it to class, it can be far too easy to neglect breakfast. Or simply settle for a doughnut or some greasy fast food. 
Instead, get your breakfast ready the night before thanks to overnight oats. Add one part milk to one part oats in a mason jar or Tupperware, seal it, and chill. Like magic, in the morning, you'll have a creamy, filling breakfast in a ready-to-go container! If you like it thicker, you can also add chia seeds to the mix. And don't worry; overnight oats are anything but bland. You can flavour them any way you want. Add fresh fruit, maple syrup, peanut butter, chocolate, or apple pie filling! Bonus: the last two flavours means this can also be a great healthy dessert option, too!
6. Smoothies
Smoothies aren't just for post workouts. And thanks to delicious frozen fruit options, they aren't just for summer either; you can get out-of-season ingredients any time! While you can make them almost any flavour you like, you'll never go wrong with classic berries, bananas, and milk. You can also add in yoghurt, spinach, avocado, protein powder, or peanut butter to take it up a notch! These are fantastic options for on-the-go breakfasts, filling snacks, healthy treats, or even a light lunch. 
Get in shape and try these healthy meals to cook at uni! 
Thanks to these easy options, you'll be ready to tackle uni this year with a healthy mind and body. And all without breaking your student budget! 
Give them a try and see how delicious uni life can be. Not to mention, make sure you keep your 2020 goal of staying fit and healthy this year!