Image Credit: Church – Temple of Fun
Image Credit: Church – Temple of Fun
Being a vegan is rewarding but can also be hard, especially in a student-heavy city that offers some serious street food. But fret not, Sheffield is not behind the times when it comes to vegan options—both bougie and budget-friendly. Here are some of our fave vegan restaurants in Sheffield.
ASK Italian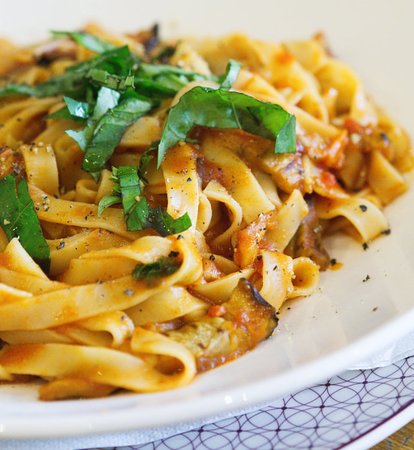 Image Credit: ASK Italian
The must-try vegan meal at the ASK Italian is the Fettuccine Con Melanzane. It might just be the best vegan pasta dish you've ever had. The tomato, garlic and basil sauce makes for a rich, delicious and satisfying meal. Their vegan menu has loads of other options—pizzas, starters, desserts—even a kiddie menu! This foody-friendly spot has a great date-night vibe, definitely trendy enough to impress.
Blue Moon Café
Blue Moon Café is the OG vegan restaurant in Sheffield; it's been around for nearly 20 years. Not only is the building historical and gorgeous, located on the edge of Cathedral square, but the adorable interior is also super cosy. The friendly staff write the menu on a chalkboard each day, changing with the seasons, but always offering the best in vegan fare. Our go-tos include the scrummy cake, cottage pie and burritos (word to the wise, burritos are bursting, so bring your appetite for that one).
Pom Kitchen
We.love.Pom.Kitchen. First off, the whole place is serving up serious Instragam lewks. Bring your phone, you'll want to document. Beyond the aesthetic, their vegan food is delicious. Try the rainbow bowl (a very accurate name)—you'll thank us! Go for the presentation, stay for the fresh and fantastic flavour.
Church – Temple of Fun
Vegan food aside, Church – Temple of Fun is seriously rad, everyone should go there. Located in Kelham Island, it's a barcade, music venue, and vegan restaurant, all in one, founded by Oliver Sykes (lead singer of Bring Me The Horizon). Another former vegan restaurant in Sheffield, Make No Bones, took over the kitchen at Church and offer up some very inventive Vegan meals. The entire menu—drinks and food—is craft and 100 percent vegan. Try their Syko Burger, comes on a charcoal black bun. We also love their vegan take on the traditional English Fry Up.
Humpit
Humpit – The Hummus and Pita Bar is a more low key vegan restaurant in Sheffield with amazing Mediterranean food. While this place is a chain across the U.K., we still love their unique and fresh vegan options. Not to mention, you can use Deliveroo to order takeaway on those lazy days. Try their filled-pitas for a hearty lunch—they're massive. The cauliflower with tahini sauce is another scrumptious option.
Try these and more vegan restaurants in Sheffield!
Sheffield is expanding their food scene every day, and we're proud to say more and more restaurants are adding fab vegan menu items. We'll keep you updated on our favourite Vegan spots. Don't forget to stop by our cafe and juice bar at LIV Student, we offer vegan-friendly options and are open all day.