Student Accommodation near Sheffield Hallam University
Liv Sheffield is perfect for Sheffield Hallam students being only a 10 minute walk from the collegiate campus, or an 18 minute walk from the main campus. Our ensuite rooms are very popular with first years and our studios are loved by 3rd years and post graduates. Liv Sheffield is not only close to the uni but a stones throw from the city centre.
Sheffield Hallam University Collegiate Campus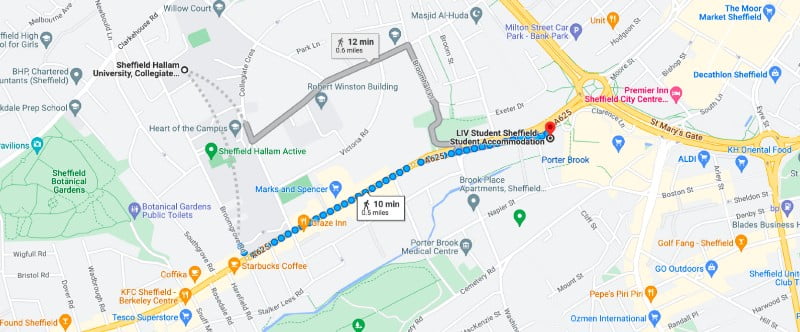 Sheffield Hallam University Main Campus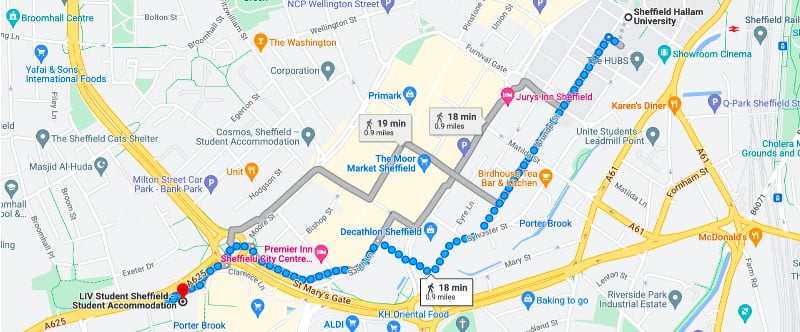 Simple Steps to Book Your Room
Step 1 – Decide on your room type
Step 2 – Click "View & Book", select your contract & follow the on-screen instructions
Our booking process is quick and easy and will take just a few minutes.
What are the key features of Liv Properties?
At Liv Student, we pride ourselves on offering a wide selection and range of some of the best properties throughout Sheffield that are ready and available for students to live very comfortably, allowing students to spend less time worrying about their accommodation and more time focused on their course. With Liv Student, you have the choice between stylish shared apartments with flatmates, or modern studio apartments should you want a little more privacy away from your friends, or a secure quiet space away from other people after the Covid pandemic. As standard, all of our rooms come with everything you need as a student to live in comfort. This includes access to a common room, dishwasher, microwave, freezer, en-suite and much more to make sure that all your needs are met when studying for your future. All of our appliances are some of the best in the market, to make sure that your experience staying with us is truly the best it can be. We also offer free campus maintenance should anything go wrong with your room or apartment.
With Liv Student, our well-maintained central Sheffield property is very well-equipped, with facilities including a cinema room, kitchen area, roof terrace, free WiFi so you can get online and access the campus website (myHallam), 24-hour security, bike storage so you can get to and from your lectures quickly, a gym, study room, and recycling bins dotted around the campus. We also have both single and double bed styles within the residence. For more specific information about our accommodation, you can check out this page for room information and availability, as well as  prices and additional amenities that you may need. Not to mention, that all your utilities are paid for too, with the internet, insurance, electricity, gas and water all being taken care of for you.
Why Choose Liv Student Accommodation?
There are many reasons to choose Liv Student accommodation over some others you may find in the city. With all of the above features and benefits, we will not only make you feel comfortable and welcome, but our helpful and friendly staff will go out of their way to ensure you have the best possible experience. We have some of the friendliest residents staying in our student halls, and with amazing accessibility to the campus, we're in the perfect place for your stay. We understand that education comes first in any scenario, and funding should never be a worry. This is why we also have some of the best value accommodation fees, that beat the price of others around Sheffield – with all bills included. This means you can spend less time worrying about funding, and more time studying or enjoying yourself at social events. We support students getting the results they deserve with our beautiful but functional accommodation options, to help students experience leadership, independence, and the opportunity to pursue their desired career. If you're a parent looking for the best Sheffield Hallam university accommodation, then come take a look around our spaces.
No matter if you're in your final year postgraduate course, or you're pursuing your undergraduate courses, we're sure that staying in a Liv Student accommodation will be the right way to better your education, and a new place to call home for the duration of your stay at Sheffield Hallam University. Got any questions? Contact us today for more information about accommodation, rent, any benefits or concerns you've got! Want to see more? Find us on Youtube, Twitter, Instagram or Facebook and find out more about our Sheffield Hallam University Accommodation.
Sheffield Hallam University 
Sheffield Hallam University is one of the largest and most diverse universities in the UK. The campuses are home to a community of over 30,000 students, and 4,000 staff with more than 280,000 alumni all over the globe. Based in the heart of Sheffield, South Yorkshire, Sheffield Hallam University is just a short walk from our student accommodation property and is surrounded by amazing businesses, city life, and communities that all contribute to this wonderful location.
If you need to travel further afield, the public transport options are comparatively cheap and reliable, so a trip home for UK students is efficient and convenient.
Howard Street (S1 1WB, UK), where the university is located, is also home to some amazing activities and businesses. Within walking distance, you can visit many cafes, clubs, bars, restaurants, shops and places of interest that we're sure will make any stay that much more enjoyable, and will contribute to student life and socialising with other alumni, with events and activities organised regularly.  Only a stone's throw away from the city centre, the city campus is one of the best in England.